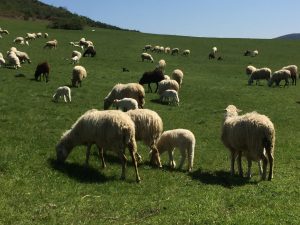 The National Reference Centre for the quality of milk and products derived from ovine and caprine animals (C.Re.L.D.O.C.) was established by Ministerial Decree of 27 August 2004, published in Official Gazette no. 43 of 22 February 2005. With the establishment of the Center was formally recognized the thirty years of activity that the Istituto Zooprofilattico Sperimentale of Lazio and Tuscany has played in the sheep and goat milk quality.
The C.Re.L.D.O.C is within the Department "Hygiene Control Production and Transformation of milk".
In keeping with the legislation of the National Reference Centres (Ministerial Decree 4 October 1999), the main mission will be to exercise, in cooperation with other Istituti Zooprofilattici Sperimentali, a center for research, training and assistance in the dairy sector addressed to all stakeholders (institutions, farmers, milk – dairy industry, consumers, national and international scientific community).
The targets of the Centre are the following:
Deepen and guide research on subjects of interest, in different breeds of sheep and goats, the production of milk and dairy products.

Provide Istituti Zooprofilattici Sperimentali, veterinarians and farmers a benchmark to address all issues related to sheep and goat farming dairy products.

Produce and standardize protocols and regulations on the hygienic production of milk and dairy products of sheep and goats.

Standardization and validation of milk analysis methods.

Study the threshold value of somatic cells in bulk, individual and half udder milk.

S

tudy the qualitative parameters and rheological properties of milk.

Organization of Interlaboratory proficiency testing trial.

Collecting and studying bacteria strains involved in cheese manufacture and repening to assess their characteristics.

Develop and standardize a methodology of control of milking systems, through the use of electronic instruments specifics for sheep and goats.

Training and professional updating activities for managers and technicians of milk laboratories of Istituti Zooprofilattici Sperimentali, veterinarians of National Health Service and industry technicians.